NEW ITEM! Now 100% Synthetic with Silver cap
Brown Faux – Mineral Powder Dispensing Brush This is a brush and powder dispenser in one!  The unique dial mechanism offers three settings that control powder flow.  The ultra soft, 100% synthetic hair allows for a smooth, flawless coverage. Fill with your choice of Mineral Foundation, Blush, Enhancers or Rice Powders. The brush has a matte silver cover top and a clear protective pull up sleeve to keep bristles in shape when not in use.
   $15.95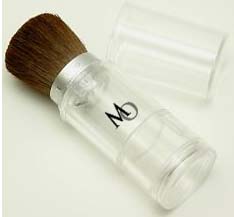 Mineral Powder Dispensing Brush 

ON SALE!

Pure Pony Hair Powder Dispensing BrushThis is our Original Version
     $11.95 reg: $15
Mini Brow Kit in carry Pouch with Mirror.Three essential travel tools are miniature sized for easy travel. Packaged in an adorable pouch holder that has a mirror on the reserve side of tools.  Three tools include: tweezers, angle brush and spooly brush.

$7.95
BLACK MAGNETIZED PALETTE BOX –
Customizable Makeup Palette BoxSold Empty – Fill with your favoritesThe large magnetic bottom will fit all of your color pans. Arrange your shadow, blush & foundation pans anyway that you please.

Outside Closed: 8"L x 4.5W x .7.5D
$18.50
MAKEUP PLANNER BOOK – EMPTY POUCHPerfect for the woman on the go!  Holds all your favorite makeup items in one neat place.Closed:8.25" L x 2" W x 6.125" HInside Left: Deep Pocket, Large Mesh Flap Bag attached with Velcro

Inside Middle: Ring Binder with 2 removable zippered mesh bags – 7.75" L x 5" H (Extra zip bags can be added and are available below).

Inside Right: One deep brush pocket in back, One four sectioned brush pocket in front.
$24.00
Xtra Zippered Pouch insert for Planner Bag
Add a page… with this extra removable zippered mesh bag – fits on ring binder of Makeup Planner book (above) –7.75" L x 5" H
$4.95
MAKEUP TRAINING BAG- EMPTY BAG
This Black Satin Make-Up Bag has many slots to hold Brushes, as well a plenty of storage for all of your makeup items (includes a Removable Pouch)
Size Closed: 9.45" x 7" x 2.36"
The perfect bag for the traveler..
$14.95
Canvas Brush Rolls – EmptyThis lightweight canvas material is trimmed with black faux suede at the bottom.7 pocket design or 11 pocket design- both feature extra wide pockets to fit several brushes into one pocket.  Ideal for long handle brushes, will also accommodate shorter.  Both are sold empty so you can fill with your favorites.Short -7 Pocket Canvas Brush Roll (Empty)
$22.50
Long – 11 Pocket Canvas Brush Roll (Empty)
$26.50
D2O Moisture Spritz Spray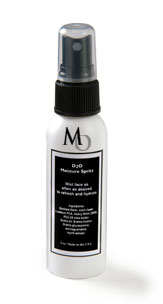 For all Skin types, especially those needing extra hydration. Use to set minerals after makeup has been applied. Use to hydrate skin at any time – especially in dry climates or planes. D2O Moisture Spritz is a good substitute moisturizer for oily or acne prone skin. Mist face as often as desired to refresh and hydrate.

Make sure to check out our TIPS & TRICKS guide for other cool uses with D2O.
$14.95
LIQUID POWDER: SHINE ELIMINATORGives skin a soft matte finish without the mess of powders.Once known only to theatrical makeup artists for its staying power under hot lights, this remarkable formulation is now available for everyone.

37 ML Tube
Flocked SpongeFor medium to heavy coverage.Can be used as an overall blender after applications.Blends the powders and does not drag. It can be washed and used again and again.Check out our TIPS & TRICKS section for other useful ideaNote: we no longer offer the little white pouches.  Puffs come in a clear sealed bag.
$6.00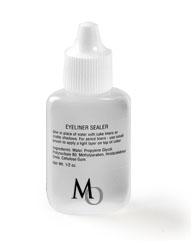 Eyeliner SealerUse in place of water to transform shadows into liquid liners.
This liquid gel creates unbelievable staying power.Ingredients: Water, propylene Glycol, Polysorbate 80, Methylparaben, Imidazolidinyl Urea,Cellulose Gum.
$7.99
SPECIALTY BRUSHES – BLUE SQUIRREL
Our Squirrel brushes are the softest and silkiest you'll ever experience.  They will glide makeup on for a soft, smooth (almost airbrushed) finish, with very little effort. Due to the delicate hair of squirrel brushes, it is important to use an extremely light touch to avoid breakage of this fine hair. It is normal to experience a few loose hairs (especially after repeated, harsh use).
$48.00
Additional Squirrel brush styles will be added soon!
ASSORTED BRUSHESChisel Double Shader Brush
(Short or Long Handle)For flawless application of eyeshadows

Chisel Double Shader – SHORT HANDLE
$9.00
Chisel Double Shader – LONG HANDLE
$10.00