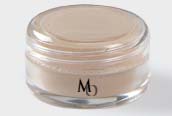 Samples are a perfect way to test the colors and textures of our cosmetics before committing to a full-sized jar.
We are happy to offer inexpensive samples of all of our mineral shades.
Foundation

, Rice Powder and Enhancer Samples are a generous one-gram size in a jar (No sifter).
Shadows

& Blush Samples are .50-gram size in jar (no sifter).
They contain enough powder for several applications, and cost $2.99 each. We suggest that you try a few different shades to find one that's best for you. Simply choose "Sample Size" when selecting colors.
Next to each full size jar – you will see the option to click on a sample size!  Add a few to your cart – it is an easy and inexpensive way to try before you buy!
The small sample sizes are extremely concentrated. ­
Use sparingly. The correct color should blend into your jaw line without looking lighter or darker.
Do not test on your hand ­ Your hand is a different skin tone and texture and will not show you the true color.